One of the things clients come to GNIUS for is to hear about new ideas and different approaches to the challenges of creating great communications.
Whatever the communication challenges, our clients can depend on our strategic approach, creativitity and imagination to help make their communications great.
'GNIUS Thinking' is a selection of recent models and processes that our clients have found most interesting and helpful.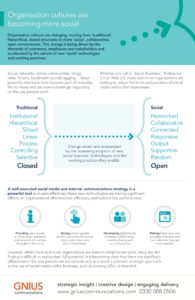 Organisation cultures are becoming more social –  change is being driven by the demands of customers, employees and stakeholders and accelerated by the advent of new 'social' technologies and working practices.
A well-executed social media and internal communications strategy is a powerful tool and used effectively these new technologies are having significant effects on organisational effectiveness, efficiency and bottom-line performance.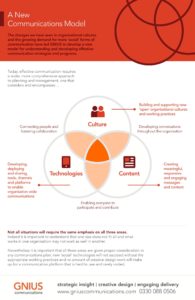 GNIUS new Communications Model to help understand and develop effective communication strategies and programs
Today, effective communication requires a wider, more comprehensive approach to planning and management, one that considers and encompasses culture, technologies and content.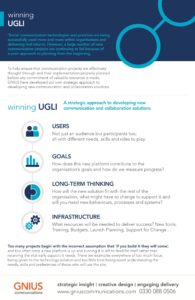 winning UGLI A strategic approach to developing new communication and collaboration solutions
To help ensure that communication projects are effectively thought through and their implementation properly planned before any commitment of valuable resources is made, GNIUS have developed our own strategic approach to developing new communication and collaboration solutions.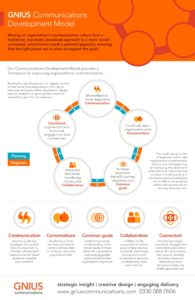 GNIUS Communications Development Model provides a framework for improving organisational communications
Moving an organisation's communications culture from a traditional, top-down, broadcast approach to a more 'social', connected, environment needs a planned approach, ensuring that the right pieces are in place to support the goals.
If you'd like to hear more about any of the new work we are developing, we're always happy to come and share our thoughts with you, just give us a call!
If you'd like to receive a copy of any of our business communication models please email michaelhollinson@gnius.co.uk