ENGAGING EMPLOYEES IN FACING A MAJOR COMPETITIVE CHALLENGE
Wrigley is the world leader in the manufacture and marketing of chewing gum. Having led the chewing gum market for years, Wrigley were facing a new competitive threat that had the potential to take away £millions of market share. They needed help engaging their staff in confronting and defeating this new challenge.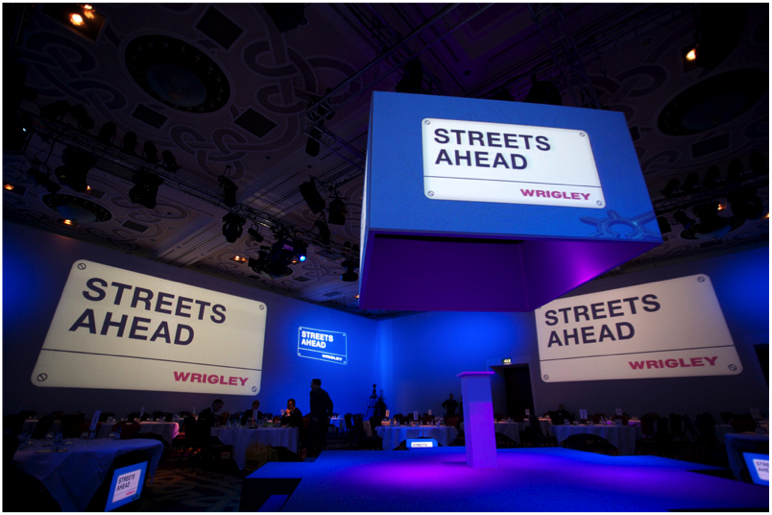 Recommended Approach
The key to ensuring everyone was committed and engaged in confronting this challenge was to present a clear picture of what was at stake, to explain the leadership's vision and proposed response and to give everyone the chance to contribute to the development of action plans.
To demonstrate that this situation could be addressed, and help build the team's self-confidence, it was important to emphasise the existing values and strengths of the company which had helped it become market leaders and successfully maintain that position for many years.
Wrigley – STREETS AHEAD
Working with Wrigley's executive team a compelling concept was developed based on the company's core values and strengths and summing up all that was special about Wrigley – in everything they did, they were simply 'STREETS AHEAD'.
An Unsettling Vision of the Future
To bring to life the challenge they were facing, over the course of a two-day event, the Wrigley team were taken on an inspiring, confidence-building journey.
Arriving at the event on the first morning the Wrigley staff found themselves in a strange, unsettling High Street. The stores were full of their competitor's products and promotions, the competition's advertising was everywhere, and shop staff and sales promotion teams were happily explaining how great the new products were.
Moving into a conference room, the delegates found themselves in a new product launch 'hosted' by their competition. They could only listen as a Sales Director confidently presented his plans for successfully taking market share away from Wrigley.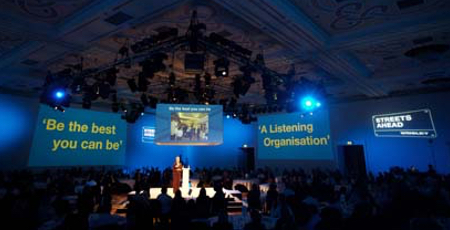 Engaging Everyone in the Response
Having seen the size of the threat they faced it was time for a change in mood and environment. A specially prepared 'STREETS AHEAD' video was shown to restore moral and move the focus onto to how the Wrigley team would respond.
Over the next two days the company strategy was brought to life through interactive workshops and training sessions. The challenges being faced were fully explained, the leadership's planned response was clearly outlined and each member of the audience was encouraged to take ownership of how they could make a difference.
By the end, the whole team were fully engaged in proving that Wrigley were indeed Streets Ahead and confident that they would win out against the competition.
 "The strong positive feedback from both the audience and the leadership team was unequivocally that this was a real step change for us.  It really engaged and took our team on the journey and they emerged with a clearer understanding of what it will take to win and why we are well placed to make it happen."  Wrigley Managing Director, UK & ROI